Building raised beds for your garden is a great way to give your property a new look, as well as to give you more space for planting. In fact, there are tons of benefits to building raised beds. That's why we're taking a look at everything you need to know about building raised beds, and giving you some awesome, creative ideas!
Why Raised Beds?
Raised beds certainly look nice, but there are other advantages too. They keep your garden neater. And because you control the soil inside, you can make the ideal growing conditions that you need. You'll get more surface area for planting if you choose tiered beds, and if you have back or mobility problems, raised beds mean that you don't need to bend. Raised beds can even be moved around (depending on how big you build them), so you can place them wherever you like. And since the surface area is smaller, soil defrosts more quickly than regular garden soil, meaning you can plant earlier in the year.
There are tons of reasons that raised beds are a great addition to your garden. But just what are your options here?
Size Options
Your first option is the size. Of course, a lot of this question depends on the space you're trying to fill. In basic terms, a raised bed can be as small or as large as you like. However, around four feet wide and around six feet long is the ideal largest that you're going for, since this will allow you to tend the bed without having to actually get into it!
Shape Options
There are plenty of shape options too, depending on which building material you use. Traditionally, raised beds are rectangular but don't feel that you have to keep to that idea. Hexagonal beds are one way that you could go, and if you're building from metal or stone, circular or even spiral beds are popular. The sky's the limit, so design the kind of bed that you like! And don't forget that you can tier or terrace beds as well, though do make sure that you take into account the shadows that will fall on lower beds when planting.
Material Options
You can literally make raised beds out of anything. Wooden constructions are popular, but stone and even sheet metal beds are perfectly possible. Feel free to repurpose old items to make raised beds as well, anything from old bathtubs to old toilets can be used to make planters. The only limit is your imagination.
Location Options
You can put raised beds wherever you like, there are no hard and fast rules. You'll need to take into account not just the space that you have, but also sun, wind protection, and shade since this will determine what you can plant. And don't forget to leave enough space to access your beds for planting and watering. If you don't want to be locked into a location then opting for smaller raised beds means that you get a portable solution that can be moved around as you wish.
Additional Ideas
Looking for some more creative ideas for raised beds? Then check out some of these:
Trellised Beds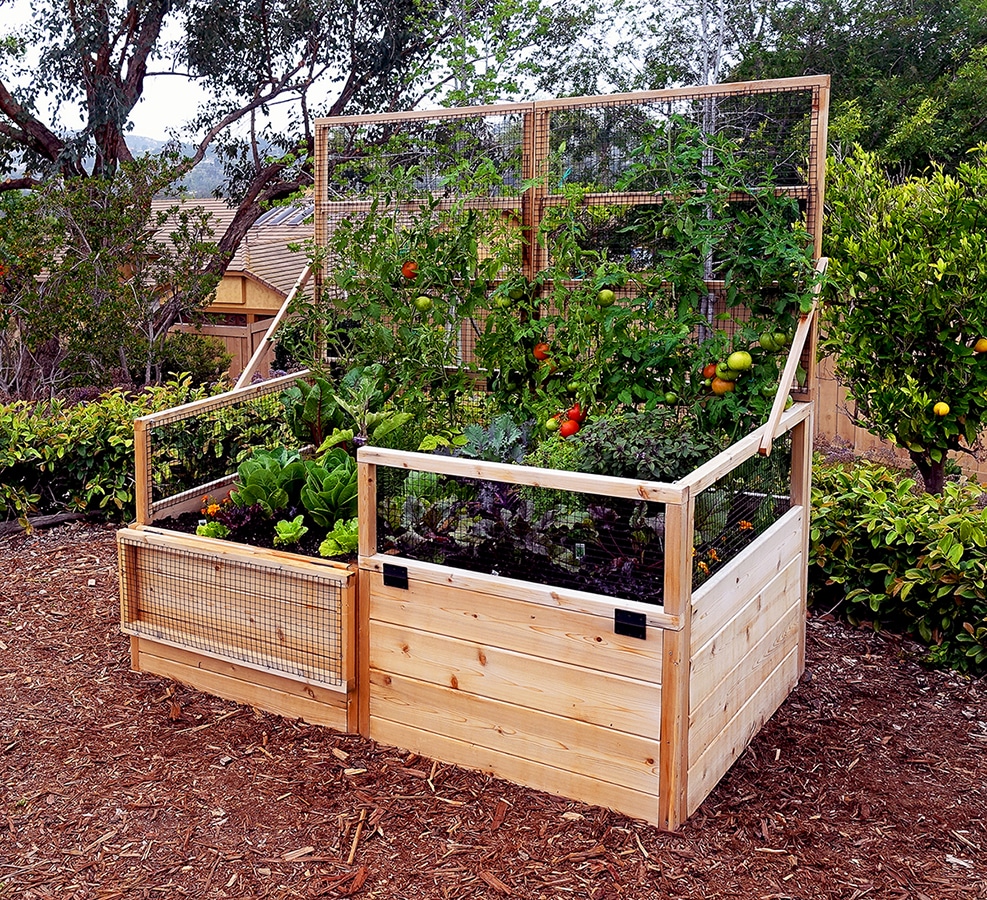 Erecting an archway of trellis between two raised beds lets you grow vine plants, and makes harvesting easy if you're growing fruits. Plus, it looks fantastic.
Bench Beds
Incorporating a place to sit down when designing your raised beds is a great way to get a dual purpose piece of garden furniture. A bed that extends out into a bench is one way of doing this.
Wheels
Putting your raised bed on wheels makes it easy to move around to chase the sun or to put away in the winter time. Just make sure that the bed you're building isn't going to be too big or too heavy to be pushed around.
Reclaimed Beds
Don't feel like you have to spend hundreds of pounds buying materials for raised beds. You can make a bed from whatever you like, and reclaiming material is a popular way of making beds. From old pallet wood to discarded baths, anything that can contain soil can be used to make a raised bed.
Play with Height
A raised bed can be as simple as a two by four box laid on the ground. But there's no height restriction. Feel free to build beds on platforms or even on legs if it makes them easier to reach. Wheelchair users, in particular, can benefit from beds that are at waist height.
Build In
Your beds don't have to be a temporary structure either. Brick beds that form parts of patios or even garden walls are popular. Just be sure that the location is right before committing to building.
Or Go Temporary
On the other end of the spectrum, you can go completely temporary by building your raised beds out of something like hay bales. That way your garden can have a completely new look every year!
Raised Garden Beds: The Sky's the Limit
From milk cartons to breeze blocks to elaborate structures built from stone or wood, there's no limit to what a raised garden bed can look like. Be as creative as you like, and make your garden a true paradise by building raised beds. Your plants will be healthier, your property will look amazing, and you might save yourself a bad back as well. There's really no downside to building raised garden beds!