Having a garden is a fantastic opportunity to get some fresh air, to be creative in your gardening, and to make sure the kids get some exercise. However, many property owners are surprised at just how much stuff gets left outside. And whilst your home might have cupboards, your garden probably doesn't.
Fortunately, there are storage options available, and that's what we're here to help with. We've even got some great model recommendations of what we think are the best garden storage boxes you can buy right now.
Why You Need an Outdoor Storage Box
Gardens, patios and decks do tend to collect a lot of random items. Whether that's kids toys, bikes, gardening tools, covers and cushions for garden furniture, or anything else, a decent outdoor storage box can be just what you need. A storage box will give you somewhere to stow items away, to keep them safe and in good condition. Protecting your belongings from both the weather and thieves means that an outdoor storage box is an important piece of garden furniture.
What Are My Options?
There are many kinds of outdoor storage boxes, all with their pros and cons. We can divide these up into three main categories:
Timber Boxes
Timber boxes are rather obviously made from wood. This means that they look great and blend well into the garden. However, they might not be the most durable option, and they certainly aren't the cheapest choice.
Pros: Look great, blend well into the garden.
Cons: May require maintenance, not always the most durable choice, can be expensive.
Best For: Those looking for something that looks great, and that have the time to do maintenance if necessary. Those with a higher budget.
Steel Boxes
Steel or metal boxes are not the most common option, though there are models available. They tend to be very durable and are extremely secure. The downside is that they're not always the best-looking choice, they're heavy to move around, and they don't come cheap.
Pros: Extremely safe and durable.
Cons: May not look great, are heavy and can be expensive. Not very common, meaning there may be less options available.
Best For: Those with looking to secure expensive equipment such as tools, and those with a higher budget.
Plastic Boxes
By far the most popular choice are plastic boxes. These are cheap, easy and light to move around, and come in many different sizes. They're weatherproof and fairly durable, and require little maintenance. However, they might not be the most aesthetically pleasing option, and depending on the style might not be as secure as you'd like.
Pros: Lots of options, affordable, durable and easy to move around.
Cons: Not the most attractive option, and may not be super secure.
Best For: Those with a lower budget, those looking for practicality over aesthetics.
What Do I Need to Think About Before Buying?
Garden storage is an investment, one that hopefully you won't be making more than once, so it is important to consider a few things before buying:
What Are You Storing?
This should certainly be your first question for two reasons. Firstly, knowing what you're going to be storing should give you a good idea of the kind of size you'll need for your box. Secondly, there's a difference between storing kids' toys and expensive power tools that may impact on just how durable and secure you need your storage to be.
What Size Do You Need?
Knowing what you're going to be storing should give you some idea of how large a box you're looking for. But you'll also need to think about the footprint of a box. How much space do you have on your property? Will the box you've chosen fit in the location you've chosen for it? Don't forget to allow for room to open the lid or doors where appropriate!
Where Am I Going to Put It?
There are a few concerns when it comes to location. How noticeable do you want storage to be? Are you comfortable having your box where people can see it? Placing a box against an outside wall gives it more stability. And keeping a box in a shaded area means there'll be less sun damage. However, you'll also want to think about convenience. Having your storage somewhere that's easy to get to means it's more likely to be used.
How Much Maintenance Am I Willing to Do?
Some materials need more maintenance than others. In general, wood and timber will need annual maintenance, so you're in for a longer-term commitment. The choice is yours, but be honest about the amount of work you're willing to put in to keep your storage looking good.
How Accessible Do I Need it to Be?
Finally, think about accessibility. Most storage boxes come with a lid that opens upwards. However, some options have front opening doors. Other choices have both. What's the right call for you? Depending on what you're putting in storage and where you're locating your storage, different accessibility choices will apply.
What Features Should I Be Looking For?
There aren't too many features when it comes to outdoor storage. But there are a few things that you might want to look out for:
Security: If you're looking for good security then look for a box that has locks already built-in, or that at the very least has hasps that can be used for a padlock.
Roof Style: The UK isn't a dry country. Do ensure that you're getting a box with a lid that won't collect water or snow. Lids should be angled or domed.
Hinges: Whether you're looking at top or front opening models, hinges take a lot of wear and tear. In general, metal hinges are a better choice since they're more durable than plastic.
Shelving: Some storage models come with shelving pre-installed, some don't. It's up to you to decide which option is better. Shelving can make storage more convenient, however, it can also make it difficult to store larger items.
Stability: Depending on where you live and what location you've chosen for your storage you might want to look for models that can be anchored into the ground. This makes containers more stable (particularly in windy areas), less likely to be stolen, and less likely to topple over if there are small children around.
Maintaining Your Garden Storage
Depending on the material you choose, you may need to do a little maintenance. Steel or metal storage boxes should mostly be fine, though you'll need to check for rust or blistered paint every few months. If the paint does blister ensure that you patch the area with a rust-repelling paint.
Plastic boxes are fairly maintenance-free. You may need to hose them down occasionally, and do take a look for cracks that may let in the damp each season. Other than that, you should be fine.
Wooden boxes are the most maintenance-intensive. You should apply a mould and fungus repelling stain once a year. If you don't, you could find that your storage box rots, and since wooden boxes do tend to be pricier this is obviously not ideal.
How We Selected Our Top Storage Boxes
Just before we get to our recommendations though, let's first cover how we went about selecting our choices. We looked at all the above buying points, and tried to include options for all kinds of materials and all budgets, so that there was a fair choice of boxes. We looked for durability and reliability, and we scoured customer reviews to ensure that others had good experiences with products.
We did also look at commercial feedback. And though we primarily sell bin stores we do spend a lot of time working and speaking with landscape professionals, and gardeners both pro and amateur, so we got tons of feedback from the kind of people that use these products every day.
That being said, let's get on with some recommendations. Which outdoor storage box should you choose? Take a look at our top options!
A Closer Look At The Best Garden Storage Boxes
Hopefully, you've now got a solid idea of more or less what you're looking for. But which model should you choose? We've got some recommendations for you to check out below.
If you're looking for something good looking and convenient, then look no further than the VidaXL Wooden Outdoor Garden Storage box. Made from oil-stained timber, this piece is sure to look fantastic in your back garden.
It measures in at 118x52x58 centimetres, which should be roomy enough for most smaller items. Conveniently, one side features wheels and a handle so that you can easily move the box around. There's even a waterproof insert to ensure that your treasures stay safe and dry.
On the negative side, it could be a bit pricey for some, and it's a top-opening container only, which could be a deal-breaker too.
Pros
Handle and wheels mean it's easy to manoeuvre
Pretty spacious
Very attractive
Cons
Could be a little pricey
Top-opening box only, no doors
Timber will require maintenance
Having double-duty furniture is always a good investment, and this plastic storage box is designed to function not just as storage but as seating as well. You'll get plenty of space, as well as a bench for up to two adults, thanks to high-grade, heavy-duty plastic construction.
This is a chest style model, so it's top opening. And you're getting 145x70x60 centimetres of internal storage in a fully waterproof compartment. There is a lock option for added security, and the box is ventilated against damp and mould. Finally, the lid is piston-assisted, making it nice and easy to lift.
On the downside, the wood-effect plastic finish might not be to everyone's taste. And top-opening lids aren't as convenient as front opening doors. But if you're looking for lots of storage for not too much cash, then this is a great option.
Pros
Very spacious
Doubles as garden seating
Piston assisted lid is easy to open
Cons
Wood effect finish might not be for everyone
Top-opening box only, no doors
Can't be anchored to the ground-
If money is no object and safe storage is essential, then this is the storage container that you've been waiting for. Made from PVC coated galvanised steel, this box is durable, weather-resistant and will require zero maintenance.
There's a full lifting front panel (in a garage door style) giving you easy access. You get 113x138x89 centimetres of storage. You can lock and anchor the box. It's rot-proof and even fire-proof, making this an excellent choice for storing more expensive garden equipment, or even bikes should yours fit.
The big downside here has to be the price, coming in at nearly £500 this won't please everyone's wallet. And the design could be a little too harsh for some gardens. The included wooden floor isn't as robust as the rest of the unit either. But for the security conscious, this is an awesome buy.
Pros
Very secure
Full opening front panel for easy access
Water, weather, rot and even fire proof
Cons
Extremely expensive
Wooden floor is a little flimsy
Design is quite harsh
Looks always play a part with timber constructions, and this cabinet is certainly going to add to your property. Made from high-quality pine, this front opening cabinet is of solid design whilst being light enough to move around if necessary.
Size-wise you're looking at 69x43x96 centimetres, which is on the small to medium side. Two front opening doors have magnetic catches to ensure they stay closed, and internal shelving makes it easy to keep things neat and tidy inside. Plus, at under £100 this is a bargain for a timber storage box.
On the downside, the lack of hasps may make putting padlocks on difficult. And the smaller size won't be for everyone, you won't be putting your lawnmower in here!
Pros
Surprisingly affordable
Internal shelving is convenient
Front-opening doors with magnetic catches
Cons
No hasps for padlocks
May be too small for some
Timber always requires some maintenance
Just because you're shopping on a budget doesn't mean that you shouldn't have convenient garden storage. This Livivo chest is the cheapest option on our list, but don't worry, you won't be making too many compromises. You get durable, heavy-duty waterproof plastic here, so this unit is nice and reliable.
In terms of actual storage, you're looking at 96x45x48 centimetres, so around 190 litres, which is a solid medium size. Moulded handles make the chest easy to move, and the hinges over-extend on the lid meaning that it will stay open as you stock things. Plus, this cabinet goes for well under £50.
As for the negatives, well, there's no locking option so security is pretty lax here. And the light grey design might not be for everyone. Finally, there's no anchoring either, but since this is designed to be portable that shouldn't really be an issue.
Pros
Extremely affordable
Pretty spacious
Light and easy to move around
Cons
No locking
The design might not be to everyone's taste
No anchoring
Metal storage containers can be extremely expensive, and this one is on the more affordable side, though it's still not cheap. A full metal storage container with front opening (and locking) door that can be anchored, meaning this is one of the most secure options you have.
The door can be mounted on the left or the right, depending on preference. And it's big too! You get 1.5×1.5×2 metres of internal storage. And though there's no shelving, there's plenty of room to add in your own organizational system should you choose to. The container is weatherproof and waterproof and even comes with a 15-year warranty.
What about the negatives? Well, it's still going to cost you £200 (though that's a steal for metal storage). And without adding your own shelving it's going to be tough to organize. However, this is a solid buy if you're looking for great security.
Pros
Pretty affordable for metal storage
Extremely spacious
Very secure
Cons
Still might be too pricey for some
Lack of internal shelving
Design is very 'bare bones'
If you're looking for storage that's going to look great in your garden and allow you to store tons of items, then look no further. The Mcombo Garden Cabinet is a top-end choice made from top-end timber. Front opening doors are a solid plus here, giving you easy access to everything inside.
It's pretty big too, coming in at 128x50x88 centimetres this is one of the largest boxes on our list. There's plenty of storage space and internal shelving keeps things organized (leaving one area without shelves for larger items). The box comes with anchoring materials too so you can easily secure it to the ground.
On the more negative side, the doors aren't so easy to secure and you'll probably need to get a chain if you're security conscious. And this cabinet isn't going to come cheap either, though sometimes you just get what you pay for!
Pros
Extremely spacious
Intelligent internal shelving
Front-opening doors
Cons
Difficult to secure doors
Pretty pricey
Timber always requires some maintenance
Keter are a well known and reliable brand for plastic outdoor furniture, and this box is one of their mid-sized models. Like all Keter products it's made from hard-wearing, heavy-duty plastic, so you won't need to worry about durability.
You're getting 129x70x62 centimetres of storage here, around 416 litres. You get full locking options, and a piston assisted lid for easy opening. You can even use the chest as additional garden seating if you'd like. And coming in at under £100 makes this a wallet-friendly purchase too.
As for any complaints, well, the raffia-look exterior might not match your personal style. And there's no anchoring here, so the box isn't quite as secure as it could be. But on the whole, this is a great, affordable storage option.
Pros
Very affordable
Locking lid
Can be used as garden seating
Cons
Raffia-look exterior might not be to your taste
No anchoring
Utilis Garden Storage Sheds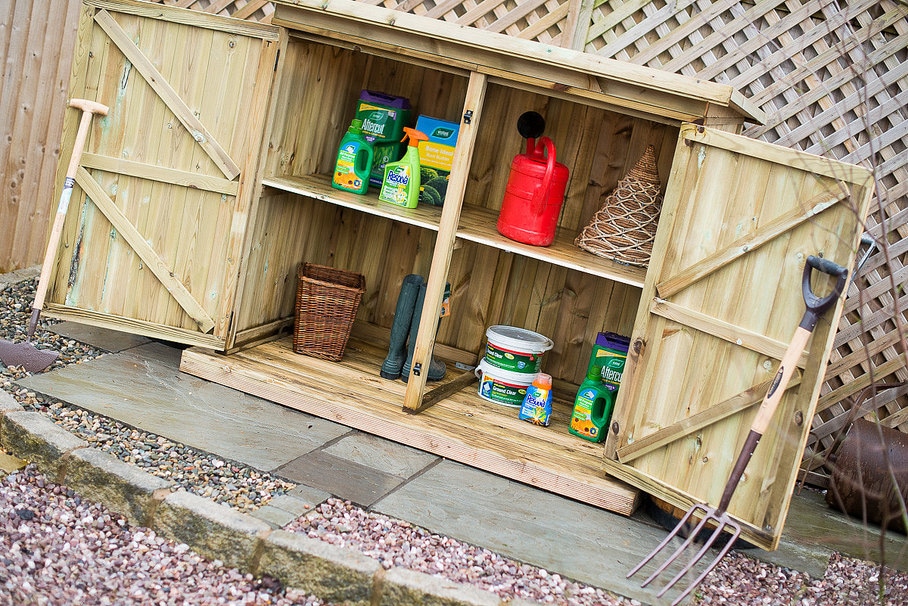 Last but not least is our own range of garden storage. While not quite a storage box, our Utilis Double and Triple garden stores are small tool sheds that can be used to store garden equipment you use regularly.
Full details can be found on the individual product pages below. All our garden stores and wheelie bin stores are made from pressure treated Scandinavian redwood timber.
View Our Garden Storage Range